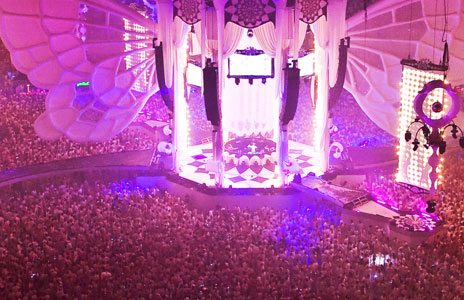 We are returning to the Czech Republic for the fourth edition of Sensation in Prague
. On Saturday 29th May 2010 17.500 spectators in the Prague O2 Arena will have the opportunity to experience another unforgettable night, which will welcome you to the world of Wicked Wonderland.
This show will take you on a sensual journey to a place full of secrets and surprises, hidden behind white doors. Open these doors and enter at your own pleasure. Your curiosity will be rewarded....
Expect jaw dropping surroundigs, an amazing audio-visual show, fantastic performances and the best musical experience assured by a quintet of world renown DJ's. The whole experience is upped even further through the 'be part of the night, dress in white' policy, truly creating an unparalleled atmosphere.
Sensation was born 10 years ago in Holland and since then embarked on a journey that has brought the event across 15 countries worldwide, including Australia, Chile, Brazil, Germany, Spain, Belgium and many others. Since its origin Sensation has welcomed over hundreds of thousands of fans throughout the world and is expecting to sell the millionth ticket during the upcoming weeks (more info at
http://www.bit.ly/1miltick).
The ticket sale for the Czech Republic starts Friday 18th December 2009 at 01:15 hour in all 7000 ticket sales points from the Sazka ticket network. The online ticket sale starts Saturday 19 December and the tickets can be purchased online at
www.sazkaticket.cz.
The Golden tickets can be purchased/reserved by sending an e-mail to
hovadova@best.sazka.cz
or can be bought at the ticket sale points at the O2 arena everyday between 13:00hr. and 18:00 hr.
TRAILERPRICING
Regular tickets
:
1090 CZK ~ (42 Euro) - First wave of 2000 tickets
1390 CZK ~ (52 Euro) - Till the end of January
1490 CZK ~ (56 Euro) - Till the end of February
1590 CZK ~ (60 Euro) - Till the end of March
1690 CZK ~ (64 Euro) - Till 29 May
Golden tickets
:
4600 CZK ~ (175 Euro) – Golden tickets give access to the luxury club floor and includes free VIP catering.
Ticket prices include 10% admission fee and 9 % VAT.
More info is available at
www.unitedmusic.cz
or
www.sazkaticket.cz
Similar topics
---
Permissions in this forum:
You
cannot
reply to topics in this forum