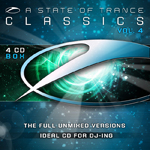 The fourth edition of the demanded A State of Trance Classics series has found its way out. With 3 successful editions out there, the endless stream of old classics gets a visit by the younger ones.
Anyone with a sharp memory and right feel for trance, will remember the 36 classics on this album. Like the previous 3 editions, A State of Trance Classics Volume 4 contains the full versions of some of trance's most memorable anthems. They've all had and have, their moments of glory down the clubs and just never grow old.
The new generation of trance lovers will surely remember 'Carabella', a collab between Galen Behr and Hydroid that was hammered by the big DJ's for months in a row. Or maybe Armin van Buuren's 'Serenity' or 'Re:Locate - Rogue' will freshen their memory. On 'A State of Trance Classics Vol. 4' you'll find essential tracks, from 'Push -Universal Nation' to 'Rui Da Silva - Touch Me', 'Synergy - Hello Strings' and Solar Stone - Solarcoaster', that have all helped built the trance scene to the impressive dance stream it is today.
Cd1
1.Armin van Buuren- Serenity
2.Chicane-Saltwater
3.Cygnes-Superstring (Rank 1 Mix)
4.Push-Universal Nation
5.Rank 1 feat. Shanokee - Such is life
6.Signum Feat Scott Mac - Coming On Strong
7.Lost Tribe Gamesmaster
8.Interia-The Chamber
9.Galen Behr vs Hydroid-Carabella (Galen Behr vs. Orjan Nilsen Remix)

Cd2
1.Rui Da Silva feat Casandra Fox-Touch Me
2.Airscape-L'esperanza (Armin Van Buuren Mix)
3.Above & Beyond-Air For Life
4.Three Drives-Sunset On Ibiza
5.Jonas Steur-Silent Waves
6.Yahel-U Inside
7.Synergy-Hello Strings
8.Robert Nickson-Spiral
9.Insigma-open Your Eyes


Cd3
1.Chakra-Love Shines Through
2.Vincent de Moor-Fly Away (Original Mix)
3.Solid Globe-North Pole
4.Push Strange World
5.Airwave vs Rising Star-Sunspot (Dcml Mix)
6.Young Parisians feat Ben Lost-Jump The Next Train (Kyau vs. Albert Mix)
7.Alt+F4-Alt+F4
8.Solar Stone vs Scott Bond - 3rd Earth (Deep Blue)
9.Sophie Sugar-Call Of Tomorrow (JOC Mix)

Cd4
1 Perpetuous Dreamer-Future Funland (Playground)
2. Pulp Victim-The World (Moonman Mix)
3. Marcus Schulz Pres Elevation-Clear Blue (Instrumental Mix)
4. Re:locate-Rogue
5. Plastic Boy - Silver Bath
6. Conjure One Featuring Sinead O'Connor - Tears from the Moon (Tiesto Mix)
7. Naline and Kane - Open your Eyes (Original)
8. Green Martian - Industry
9. Solar Stone - Solar Coaster
NOT
available for download!
---
Permissions in this forum:
You
cannot
reply to topics in this forum